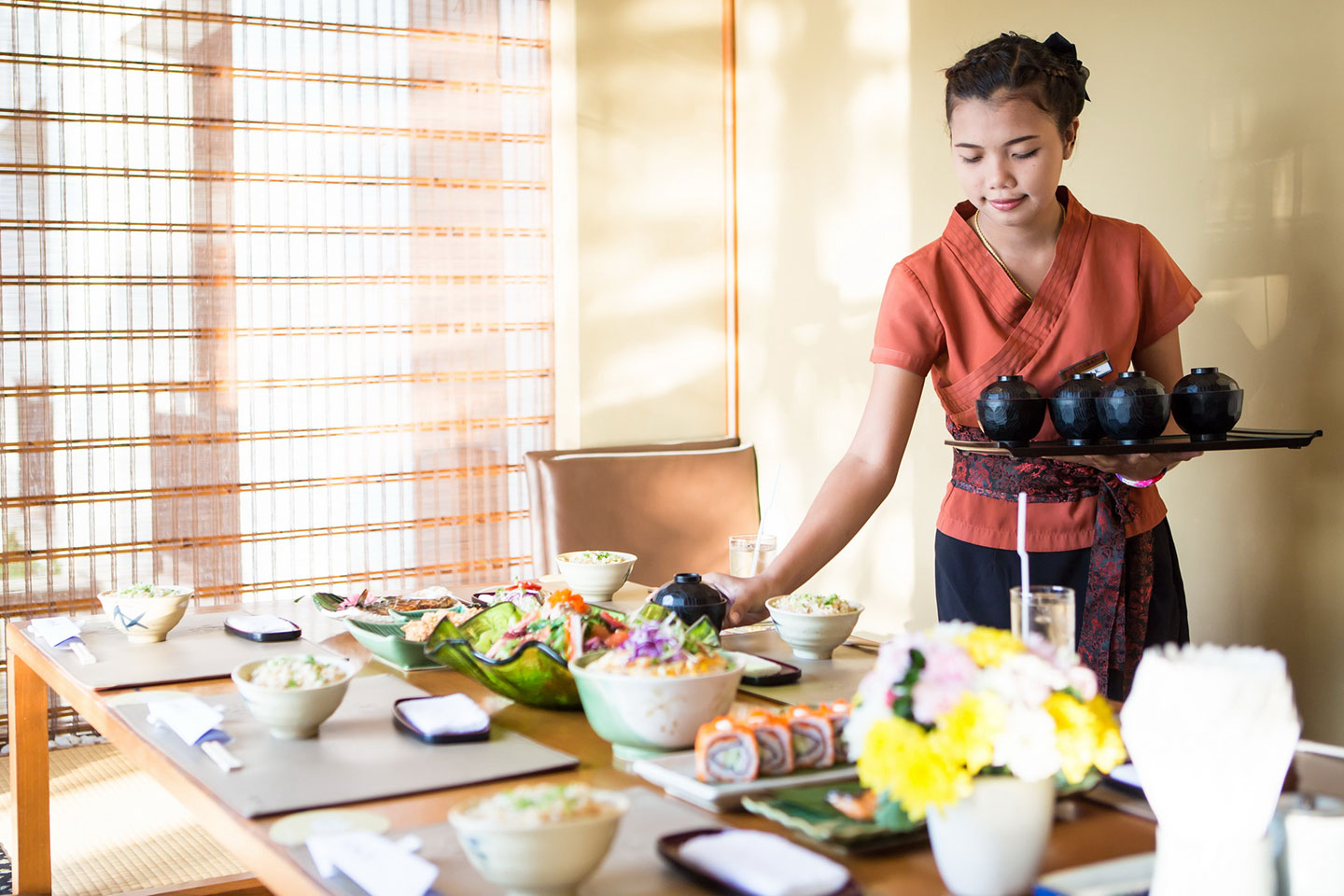 Dining
Enjoy our variety selection of the freshest ingredient from our private dining restaurant. A fine range of dining choices allows you to satisfy your appetite for any taste of cuisine all day.
Dining
Thiwa Ratree Restaurant
Enjoy a delicious variety of Thai, Chinese, Western and Japanese cuisines with intimate atmosphere which complemented by view of both the pool and waterfall. The place is charming decorated by Thai-Style.
Location: Ground floor nearby waterfall area
Hours of Operation :
Breakfast (ABF)
- 06:00 hrs to 10:00 hrs Monday - Sunday
Lunch (International Buffet)
- 11:30 hrs to 14:30 hrs Monday - Friday
A la carte : 24 hrs

Seating Capacity : 200 seats
Nippon Tei Restaurant
It is the most well known Japanese Restaurant and able to keep the reputation for its real traditional Japanese tastes both for food and service for more than 20 years in Thailand. The restaurant is suited to be a place for your business deal as well as your personal meal.
Location: Ground floor nearby pool area overlooking the lake
Hours of Operation:
Lunch 11:00 hrs to 14:00 hrs (last order until 13:30 hrs)
Dinner 17:00 hrs to 22:00 hrs (last order until 21:30 hrs)
Seating Capacity: 34 seats
Lobby Lounge
Enjoy with relaxing atmosphere soothing for afternoon tea together with our recommended Blueberry Cheesecake and other daily homemade bakery or sip a newest cocktail in a shaded and romantic atmosphere.
Location: At the lobby
Hours of Operation: 08.00 hrs to 20.00 hrs
Seating Capacity: 38 seats
Karaoke Room
For those who just like to idle the time away. Come on out to display the hidden talent in you, in one of our well equipped 4 private Karaoke rooms and 1 hall room together with food and beverage. Our wide selection of modest hit songs will amaze you with computer controlled system which is a place for your relaxation. It suits for party among friends and private party up to 100 guests.
Location: Ground floor nearby sport club
Hours of Operation: 18:00 hrs to 01:00 hrs
Seating Capacity: 100 seats
Chill Out Terrace
Let's Chill Here, Enjoy a delicious dinner menu and variety beverage among the most relaxing atmosphere by taking the charming view of the pool and the lake.